01 October 2019
PREVIOUS POST
NEXT POST
Volunteer's Experience Doing Internship at YUM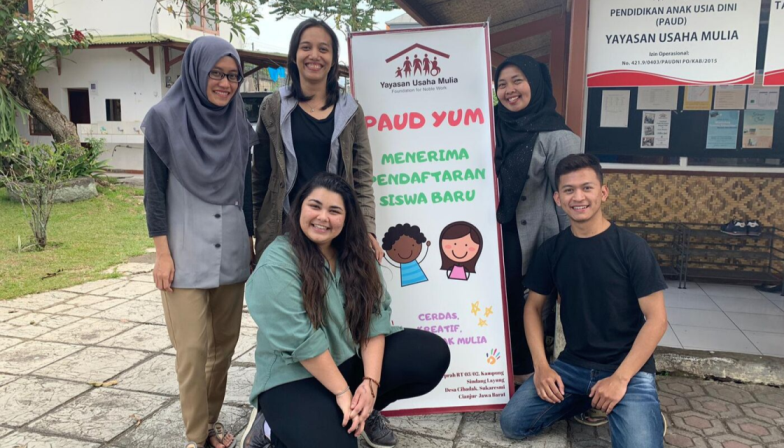 The second installment of our intern's experience, Sarah, of working at our main office in Jakarta.
When I first came to YUM I honestly had no idea what to expect. I had gone on their website, and read their annual report and tried to get an idea of who I would be working for. I quickly learned that YUM does a lot of pieces at once. I have seen NGO's that focus on clean water, education, providing healthcare, building homes, but YUM is different. They identified the main factors that communities need altogether (education, healthcare, and community development) to create real growth within the community and within the people themselves.
Long-story short, I realized that I had found an NGO that not only had the best intentions, but also properly executed their intentions- helping Indonesian people climb out of poverty. I began my internship as a social media coordinator. Essentially, I had to make sure that all the good work YUM was doing could be visible via social media platforms. One of the best ways to bring in donors is for them to find us on Instagram or Facebook and then they can get an idea of the work YUM has been involved in. The donors are vital to continuing all of the projects and therefore vital to helping people. It involved a lot of heavy scheduling of the next six months, as well as sorting through loads of pictures from events and daily life. I wanted to make sure that we were posting not only our best material, but also our important work.
Of course, I know how important YUM is to so many people after visiting one of our projects in Cipanas, West Java, and seeing hundreds of pictures of the work YUM has done over the years. Just being a part of the main office team made me feel a little important. All of the project heads are women- actually women outnumber the men in my office. It's such an incredible display of female power and feminism to be surrounded by so many intelligent, amazing, yet also caring and loving women who are literally running this NGO from behind the scenes. They make sure we have the funding, that the food arrives to our projects, that we have volunteer doctors onsite, and that we get broken infrastructure fixed immediately. You can be a woman, you can use empathy to your advantage, and you can be the boss and run an impactful, inspiring NGO.
I learned so much from this environment of colleagues who all want to make a difference for people that were never given the opportunity in the first place. YUM is important. YUM is powerful. YUM is necessary to bringing Indonesian people out of poverty. I was just lucky to be a small part of it.