29 July 2019
PREVIOUS POST
NEXT POST
Magic of YUM Cipanas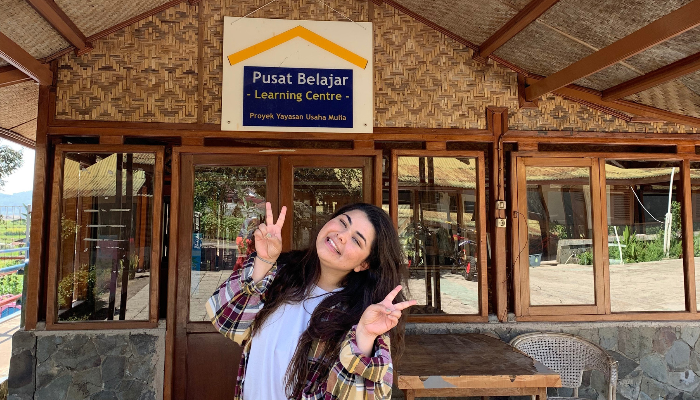 This is the first of two blog post about our volunteer, Sarah, and her experience with YUM as a social media intern in our Jakarta office. She traveled from Washington D.C. to do this internship for two months. We had her visit our project in Cipanas as a photographer and also to get a feel for the work that YUM does in the community.
When I first arrived in Cipanas, I did not know what to expect. I had never been to West Java before so there were a lot of things I was not prepared for.
The first thing I noticed upon arriving was the first breath of fresh air I was taking in since I had arrived in Indonesia. Compared to Jakarta, Cipanas had the cleanest air I had ever breathed.
The second thing I noticed was how beautiful the YUM site is. I was surrounded by gorgeously built infrastructure and greenery. This actually extended out towards the organic farm and down to the dormitories.
The third thing I noticed was how welcoming the community was, even to strangers. That day YUM was holding an Elderly Health check-up, for seniors. As each senior finished their check-up, they would stop and say hello to me even though they knew I did not speak the language.
The fourth thing I noticed was how amazing the staff was. This is a small-knit team that runs very efficient and effective projects out at this project site in Cipanas. I was given a tour of the beautiful library and preschool. I was shown the organic farm and even the techniques they were using. They even treated us to a traditional Javanese meal that was so delicious.
The last thing I noticed, which struck me the most, was how easily I could see the impact YUM was having on this community of people. I was able to see how safe people of all age groups felt being on site. There was so much joy spilling from the library and so much potential coming out of the Vocational Training Center as well as a booming organic farm!
YUM did not just help these people get up on their feet, but helped them realize that they could do it by themselves- and that self-realization is magical. It's a place filled with so much hope and many possibilities. I'll spend the rest of my life thinking about YUM Cipanas and its wonder.